Do you have negative beliefs like- I am worthless, I am mediocre, my life is boring, I am always wrong, or I don't have control over my life? Do you feel powerless because of your negative beliefs? Do you know you can change your beliefs by reprogramming the subconscious mind?

It is common to have negative thoughts, but if you constantly allow these thoughts to creep into your subconscious, then the results can be fatal. The subconscious mind is the most powerful weapon that you have. And like the most powerful things, it is a double-edged sword. If you don't use it properly, it will lead to negative outcomes. It could be the difference between a fulfilling or satisfactory life and an unhappy or frustrated life. In this article, I have shared some information about the subconscious mind and the methods of reprogramming it. So, let's begin from the beginning.
What is the subconscious mind?
The term Subconscious was coined in 1889 by psychologist Pierre Janet. According to Janet, underneath the layers of critical thought functions of the conscious mind lay a powerful awareness which he called the subconscious mind. Subconscious refers to everything which is below consciousness and is weakly conscious.
There are two levels of the human mind- the conscious mind and the subconscious mind.
The conscious mind controls the logical and intellectual processes like decision making, planning, communication through language, etc. It is also called the objective mind or the reasoning mind, and it has a short-term memory.
Whereas the subconscious mind controls the involuntary body functions like digestion, breathing, etc., and stores the beliefs and habits. It controls most of your behaviors and actions. It is intuitive in nature and has long-term memory.
The difference between the subconscious and conscious mind can be well understood by considering the analogy of an iceberg. The top part of the iceberg is the conscious mind, which is only a small part of the whole and is easily accessible. But the subconscious is the part below the waterline, which is generally not accessible and is huge.
How does the subconscious mind work?
The subconscious mind has unlimited memory and is infinite. Everything you go through throughout your life is stored in your subconscious. It stores your past experiences, skills, beliefs, and habits. Everything you have seen, done or thought programs the subconscious, and it ensures that you respond exactly the way it is programmed.
"Once the subconscious mind accepts and idea, it begins to execute it."
-Joseph Murphy
Your subconscious controls all the actions you do without quite thinking. For example, when you were learning driving, you had to consciously think about which pedal to press, which gear to use or which mirror to look at, etc. Here you train your subconscious for driving. Once you become habituated, you do all of these automatically. You turn into an auto-pilot mode when the subconscious mind works.
The communication between the subconscious and the conscious mind is bidirectional. When you get an idea for your business or suddenly remember an experience, it is actually your subconscious passing the information to your conscious mind. But communication from the conscious to the subconscious is somewhat tricky and is called subconscious programming.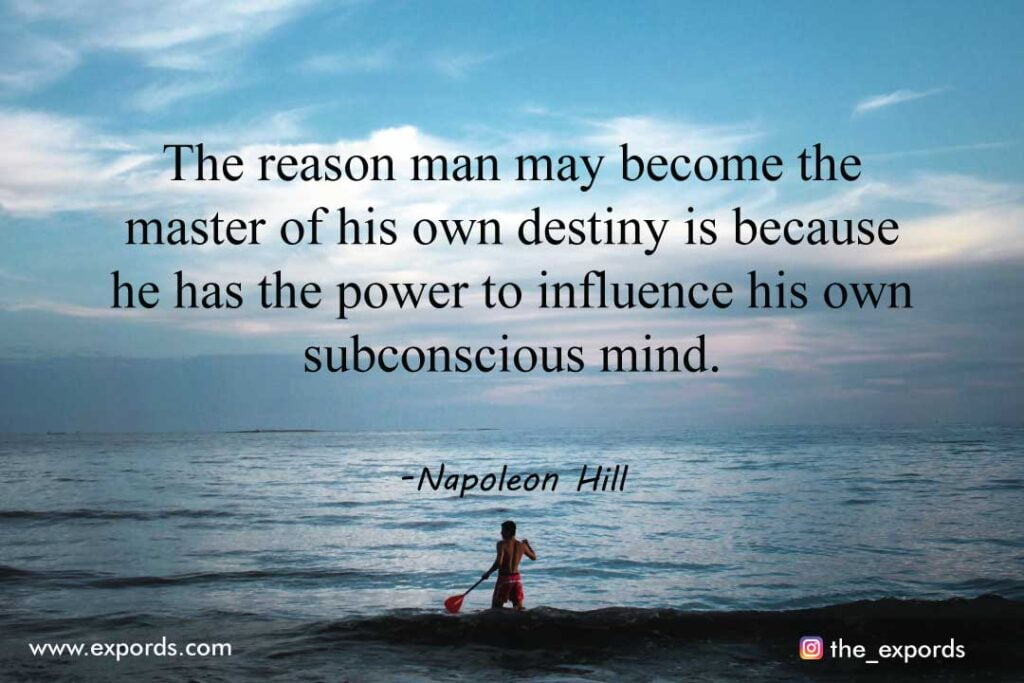 Why reprogram the subconscious mind?
The subconscious mind acts according to all the programs developed from our life experiences since childhood. These experiences can be what we have learned till now or input from external sources like parents, relatives, neighbors, etc. Most of the time, these programs are destructive and limit us in our adulthood. This is why we were happier in childhood, but because of those negative programs, we now suck at life.
"The subconscious mind makes no distinction between constructive and destructive thought impulses. It works with the material we feed it, through our thought impulses. The subconscious mind will translate into reality a thought driven by fear, just as readily as it will translate into reality a thought driven by courage or faith."
-Napoleon Hill
Cognitive neuroscientists believe that 95% of our behavior is beyond our conscious awareness. That means most of our behaviors, habits, beliefs, decisions, and actions are controlled by our subconscious, to which we don't have direct control. We may feel helpless when we want to change some of our beliefs and behaviors because it is not easy to do so. Hence, learning how to reprogram the subconscious can help us gain control over our beliefs, habits, and actions.
How to reprogram the subconscious mind?
Following are few methods of reprogramming the subconscious mind-
1.Affirmations
Affirmations are positive statements that you say to yourself repeatedly. Affirmations can be used to reprogram the subconscious mind. The first thing you need to do is to be clear about what you want. Once you know what you want, write it down on a piece of paper. For example, if you have a habit of doubting yourself, you can use the affirmation- I have faith in myself and am very confident. The sentence you use for affirmation should be positive and in the present tense. The sentence- I don't fear, is negative and is not advised. Similarly, I will have faith, is in future tense and shouldn't be used.
The next step is to repeat the statement at least twice a day for 5 minutes. The best time for doing so is just before sleeping in the night and just after waking up in the morning. As you do it repeatedly, your subconscious will get programmed, and gradually, you will feel confident and courageous. Remember, it doesn't happen within just 2-3 days. You have to be consistent as this may take some time.
"Whatever we plant in our subconscious mind and nourish with repetition and emotion will one day become a reality."
-Earl Nightingale
2.Self-Hypnosis
Hypnosis is a state of intense concentration with reduced awareness of what is happening in your immediate environment. This is another powerful method of reprogramming the subconscious because hypnosis allows direct access to it.
Hypnosis is very similar to meditation; the only difference is meditation is used to quiet the mind, while hypnosis is used to program the mind. It can be used to reprogram your subconscious mind from self-sabotaging, self-defeating behaviors, and thoughts.
The first thing you need to do for self-hypnosis is to find a comfortable place to sit or lie and then get comfortable. You should minimize the use of the five senses at this point. Clear your mind of all thoughts, and then use the above affirmations in this state. There is no fixed amount of time; you can do it for at least 5 minutes twice a day. Then return to your usual level of alertness.
"In order to reprogram the subconscious mind, you need to relax the body. Release the tension. Let the emotions go. Get to a state of openness and receptivity. You are always in change. You are always safe."
-Louise Hay
3.Visualization
Visualization is the act of creating pictures in your mind. When you visualize, you generate powerful thoughts. This is another effective method of programming the subconscious. Here again, you need to know what do you want. Let's say you have a fear of public speaking, and you want to minimize this fear. Then, you can use visualization to program the subconscious mind so that you feel more confident and less afraid next time you take the stage.
For this, you need to sit in a comfortable position and then visualize yourself on the stage, giving a speech. Try to see every detail as if it is real– the audience, their expressions, etc. And also, feel your courage and confidence in your visualization, which you want in reality.
After a certain period of time, you will find your stage fears getting reduced as you do it regularly. Of course, you will have to go to the stage, in reality, to feel more confident as you need actions, and only thinking is not enough.
"If you realized how powerful your thoughts are, you would never think a negative thought."
-Peace Pilgrim

Summary
The subconscious mind is the most powerful weapon that you have as it controls 95% of your life. Hence, it becomes essential to gain control over it by learning how to reprogram it. You can reprogram your subconscious by using repetitive affirmations, self-hypnosis and visualization. So, next time, if you find any destructive belief in you, just sit down and reprogram the subconscious mind. Thus, you gain complete control over your life, and hence over your destiny.
Keep visiting Expords.com and follow us on Instagram- the_expords for extreme life-hacks.