Ever dreamt of leaving everything behind to enjoy life?
Maybe you desire to break free from the chaos of your busy routine to party with friends or watch movies forever. Or maybe you want to quit your overwhelming job to relax and unwind on a peaceful beach.
Whatever the case, it's a fantasy we all have, right? And I am no exception.
Since I was intrigued by this fantasy, I had a deep desire to experiment with it. I just wanted to know how it feels to have fun all the time.
You see, I am a freelance writer and marketer. So I have enough freedom to take a break for one month or two. And that's what I did.
After finishing a client's work and ensuring I had enough savings, I planned to live like a person whose only purpose was to experience joy and amusement.
I decided I wouldn't even think about work or responsibilities on this break. All I would care about are things that make me happy, things that an average person dreams of while dragging himself to the office on a Monday morning.
And I already had made a list.
Since I am a movie lover, I didn't know any better way to start this experiment than watching John Wick: Chapter 4 in the theatre. This action-packed thriller filled me with the excitement I had been craving for months.
When I returned home, I found myself engaged in The Hunger Games book, a page-turner sci-fi I struggled to put down.
I don't remember exactly, but after I was done reading, I think I enjoyed another movie on Netflix. Bliss!
The next day I came to know that the Mughal Garden of Rashtrapati Bhawan was open for public visits. So, I booked a slot online and witnessed the royal garden with its spectacular plants and trees.
Life felt as if it was magic. There were no restrictions. I could go anywhere, eat anything, and sleep anytime.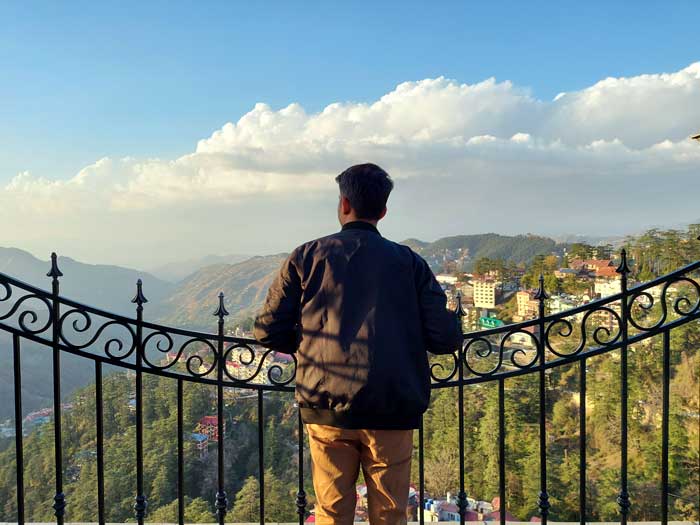 So my flatmate and I visited Sector 18, Noida zillion times. This is one of my favorite spots where I love walking along the streets, strolling in shopping malls, and tasting fast foods like Momos, Spring Rolls, and Soya Chap.
Then I visited Shimla along with a college friend. It was a 2-day trip where we walked all over the city, clicked cool photos, and enjoyed the scenic hilltop views on our first day. And the next day, we went to Kufri to feel the adrenaline rush of adventure sports like zip-lining, net climbing, and valley crossing.
When we returned, we two friends met another common college friend. While munching Raj Kachori and chicken lollypop, we talked about the past days ad how our work and life went.
Now, I don't want to burden you with all the details of what I did during my break. Because I think you got the idea, right? So, let me make it brief.
I watched 2 seasons of Stranger Things, finished the entire Breaking Bad, and enjoyed over 25 movies, including A Man Called Otto, The Sea Beast, Avatar: The Way of Water, Train to Busan, Slumberland, Despicable Me 3, and The Discovery.
I traveled to Agra to witness the majestic Taj Mahal, went to Mathura to visit Krishna Janmasthan temple, and spent four wonderful days in Udaipur.
I also visited places in Delhi like Qutub Minar, India Gate, Lal Quila, Chandni Chowk, and Dilli Haat.
I read 9 books, including A Man Called Ove, The Beach, The Courage to be Disliked, Dark Matter, To Kill a Mockingbird, and War of Lanka.
I and my flatmate cooked foods like Pasta, Hakka Noddles, Alu Paratha, Dhokhla, Sattu Paratha, Paneer Chilli, Sewai, Kadhai Paneer, Banana Pancakes, Gajar ka Halwa, Dosa, and many other which I don't remember right now.
All these continued for almost 50 days.
Now you must be thinking I was all over the moon doing those exhilarating things on this break. But that's not the truth.
I have to admit, it was a lot of fun initially. I didn't have to drag myself to my desk to work. Instead, I could watch the next episode of Breaking Bad. So, you could have seen the smile on my face and the excitement in my eyes.
But as days passed, things changed. And what was interesting became less interesting. The days kind of turned boring and happiness began to fade away as if it was paint overexposed to the sun.
And this is where I learned these 2 eye-opening lessons-
1. Balance between Pleasure and Pain
Every day during the break, I was either enjoying a movie or reading a book or traveling a place, or eating something mouth-watering. With time, these things were no more special because I did them daily.
There was nothing new. Hence they weren't as much fun as they used to be when the break started.
So the idea is we humans get used to things. Pleasure reduces when every day, all you feel is pleasure. The same goes for pain. It is the variation between pleasure and pain that makes us feel them better. Because then you can make sense of one relative to the other.
What I mean to say is- to better feel pleasure, you must embrace pain. So try to strike a balance between pleasure and pain for a fulfilling life.
Now next time you complain that your work or schedule or life is painful, remember they are important for balance.
2. Scarcity Creates Value
The pleasure was in abundance while I was on break. There was no restriction, I was free to do anything. So, I took pleasure for granted.
And this is how our brain works, we value scarce things more than those which are abundant. Tell me which is more costly- diamond or iron?
When I realized this, I set a deadline for my break. I decided to call off this break after 15 more days and resume freelancing.
The moment I did this, the pleasure was no more unlimited but a scarce entity. So, its value spiked up. And for the next two weeks, I was supercharged. I was in a hurry to do things as fast as possible and squeeze in as much fun as possible.
From being lazy and uninterested to active and vibrant, my days turned upside down just because of a simple deadline.